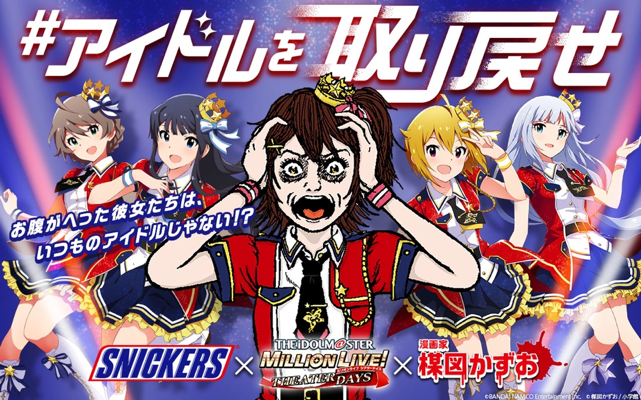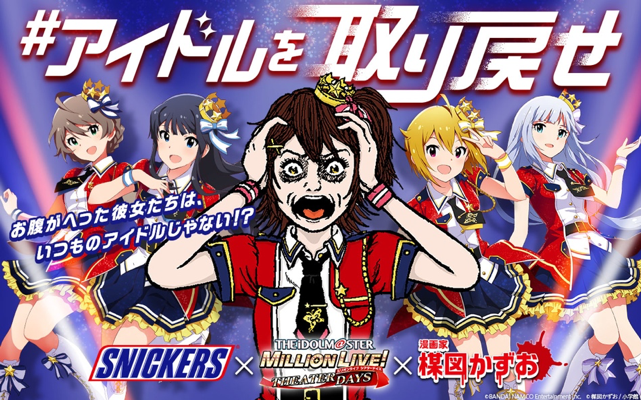 Even anime idols get cranky when they're hungry – and take one character a million miles away from their usual selves.
Fans now have a chance to save these idols and get them back to normal! All they have to do is to purchase the selected Snickers bar as their token for support, take a picture of Snickers, and post it on Twitter. Participants might receive a thank you reply from their idols. Furthermore, a music video of the idols will be released once they are back to their normal self.
These idols will return to their normal self in the order in which they receive the most votes via Twitter. The alter ego idols were created by the legendary artist, Kazuo Umezu.
Since the launch of the campaign, "SNICKERS" has already become the top trending word in Japan!! Check out the twitter page and help these idols become their self again!
UPDATE*
Our comical Snickers, Hunger Reply campaign was featured in the prestigious Sendenkaigi magazine!
They commented on how the unexpected collaboration between anime idols and a horror comic artist triggered an unpreceded amount of buzz online amongst not only fans but non-fans as well.
For more info visit: https://mag.sendenkaigi.com/hansoku/201907/idea-techniques/016343.php
Twitter: https://twitter.com/sni_rep
Website: https://snickers-millionlive.jp/