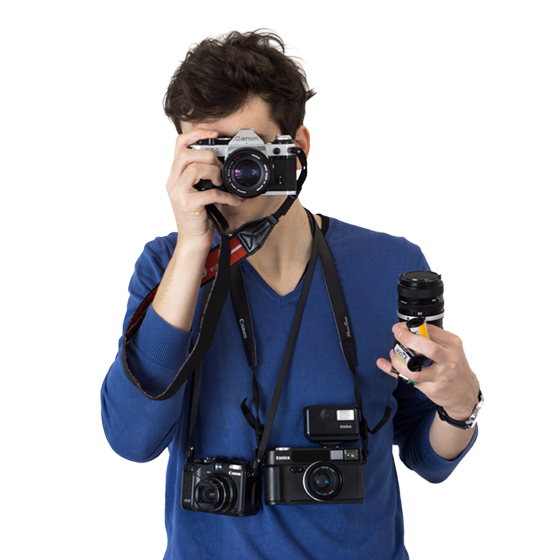 Introduction
I like photography. Jim Carrey would say I like it a lot.
Everybody is talking about « the lost art of photography », about how everything in this digital, fast-paced, uneducated, reality-show addicted world is making us all stupid.
But that's off-topic. I want to talk about the stronger, bigger, more creative than ever art of photography. I mean, look at those huge billboards from that computer making fruit company with great photos all around town. If I do not personally think they're all great, most of them are and they were shot with one of the tools that is supposedly killing photography: a smartphone. It's not a good camera by any means, but that doesn't matter. What matters is who is behind the camera, be it Henri Cartier-Bresson, Bruce Gilden, Moriyama Daido, you, me or a dog (look up phoDOGrapher on YouTube). I like that campaign because it sends a strong message to people who, when they see a good photography, say: « Nice picture. What camera do you use? ».
Some will argue that because now everybody has access to digital cameras on their phones, all we see is selfies and narcissism and blah, and blah and blah. But what about all the people who have great, amazing talent (unlike myself) and are able to grab their phone or point-and-shoot cheap digital camera and express it? They can put it on the computer and share it with the world in seconds. That would've taken an INSANE amount of time and money not so long ago.
There are thousands of those people out there and that's simply awesome. The art of photography isn't lost. It's just hidden in the middle of the selfies and narcissism and blah. But again, the pool of talent and the number of incredible photos out there has never been that big. The art of photography isn't lost. It's just that sometimes you hear someone referring to his photos as « my art » (I'm not kidding) and some other times you hear Joel Meyerowitz (exposed in over 350 exhibitions and galleries around the world) say: « I don't think of my photos as works of art—I see them as a fraction of a second in which my understanding and the world's offerings are unified in some way. »
So, this weekend, go enjoy the lost art of photography in your local gallery.